Geema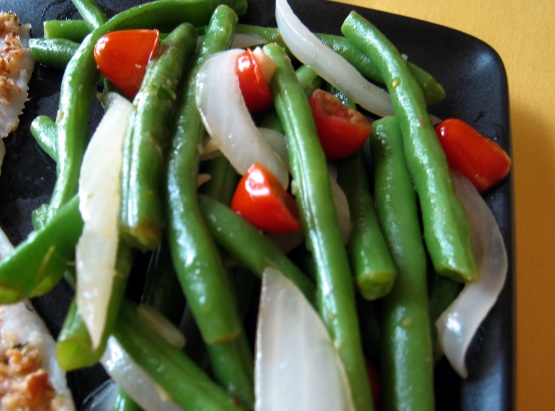 Every summer, Pop raises green beans and I love them. I'm always on the lookout for other ways to fix them in place of cooking them with bacon until soft, even though that is my favorite. Gotta have something different every once in a while. Lemon goes so well with green beans and this recipe sounded like a wonderful way to use fresh green beans. Source: First Magazine

Easy to make, and the pre-cooking keeps them a little on the "al dente" side (which is great!!) Fresh tast, great for any time of the year. Also, it's easy to adjust the size, making it a terrific side for one or two, or four or eight. I served them with blackened fish and au gratin potatoes... Yummmmmmmmy!
In a partially covered microwave-safe dish, microwave green beans and 1 tablespoons of water for 4 minutes.
In a skillet over medium heat, cook the onions and garlic in the oil for three minutes or until lightly browned.
Add green beans and 2 tablespoons lemon juice and cook until tender, stirring occasionally.
Stir in the salt and pepper. Sprinkle with 1 tablespoons lemon zest.