gailanng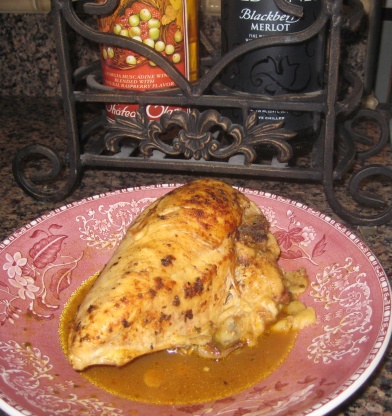 Yummy and tangy, very easy to do!

Sooooo delicious, I love that zippy tang from the lemon. I kept exactly to the ingredients with one adjustment, I doubled the oregano. I pounded the chicken first and I cooked it in the oven for about forty mins, (I don't have a slow cooker). Had it with broccoli and basmati rice. Thanks, this will be a regular!!
Remove excess skin and fat from chicken, rinse and pat dry.
In a small bowl combine oregano, seasoned salt and pepper, rub mixture onto chicken using all of the mixture.
In a large skillet over medium heat brown chicken in the butter.
Transfer chicken to slow cooker.
To the skillet add the water, lemon juice, garlic and chicken bouillion.
Stirring over medium heat bring mixture to a boil, loosening browned bits from the bottom of the skillet.
Pour over Chicken, cover and cook on high for 2 1/2 to 3 hours or on low for 5 to 6 hours until chicken is almost tender.
Add parsley Cover and cook on high for 15-30 minutes more!