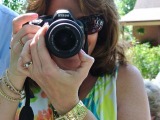 When this was served at an office party, my husband immediately got the recipe so I could fix it at home. Makes a great appetizer when we have friends over to grill but also have used it as a side dish (usually with burgers) and taken it to parties and potluck suppers. You can serve this right after assembling it, or you can make it ahead of time and serve it chilled.
Directions
Mix sour cream, mayo and seasoning together; set aside.
Mix vegetables together; set aside.
Warm beans (fat-free can be used), spread in an approximately 11x7-inch serving/baking dish. (The original recipe said to warm them. It seems to make them easier to spread, but if I'm going to refrigerate the dip before serving it, I don't bother heating the beans.).
Layer half the cheese on top. Follow with a layer of salsa, a layer of sour cream mixture and a layer of vegetable. Top with remaining cheese.
Serve with corn chips (scoops size) or tortilla chips.