vrvrvr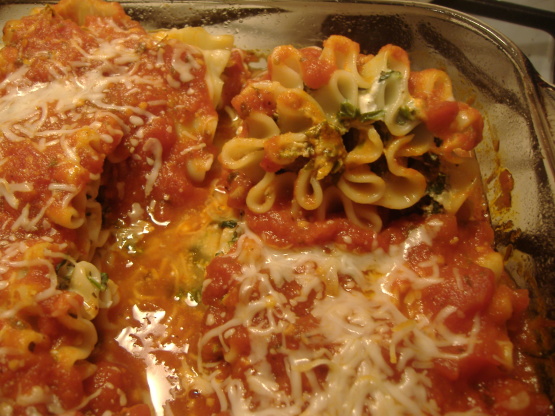 Serve as an appetizer or as a different kind of lasagna main dish.

Top Review by vrvrvr
This was just what I was looking for to solve a meatless weeknight dinner dilemma! We loved this fresh tasting, flavor-packed, colorful lasagna dish! I only had 7 lasagna noodles, but oh well. I made the same amount of ricotta-mozzarella filling (but I subbed cottage cheese, which I whirled slightly with my handy stick blender to make it smooth). I also added salt, pepper and a dash of nutmeg to the cheese filling. My tips for anyone making this great dish: (1) The amount of filling as specified would fill 9 lasagna noodles just about perfectly (2) Remove cooked lasagna noodles from the pot with tongs; layer the noodles on a large plate and spray nonstick spray between layers (3) when ready to assemble the rolls, lay the cooked noodles on a cookie sheet while spreading the sauce and rolling them up. You'll have a better eye for how much cheese filling to use on each noodle if you can see all of them at once, and it saves a bit of mess. All that said, we thought this dish was grand! Thanks for posting! (Oh, one last tip...I did not cut the rolls in half per the directions; one whole roll was plenty for one person.) We loved this recipe!!!
Cook lasagna according to package and drain.
In medium bowl, blend Ricotta, eggs, spinach, Mozzarella cheese, basil and marjoram.
Spread evenly on lasagna strips.
Cut strips in half crosswise.
Roll strips jelly-roll style.
Cut each roll in half, leaving ruffled edge at top and bottom.
In 10x15 inch baking dish spread 3/4ths of sauce.
Arrange roll ups (curly edges up) on sauce.
Top with remaining sauce and Parmesan cheese.
Bake, covered with foil, in 350 degree oven for 35-40 minutes until hot.
Can be frozen for later baking.