Lamb Bhutuwa (Nepali Lamb Stir-Fried in Himalayan Spices)
UmmAzhar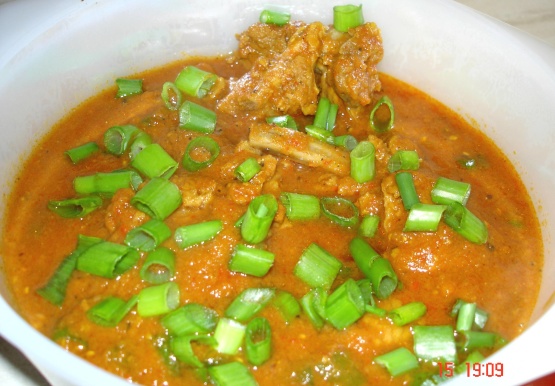 This is a spicy stir-fry preparation in Nepali style using lamb. Chicken, pork or beef could also be used.

This is one HOT curry ,not for the faint hearted....Im giving this 4 because my husband loved it,even though it was a bit spicy for me(I burned my tongue),I will make it again ,but probably with a lot less chillies.The only changes made to the recipe was that i made it with lamb chops as i accidentally defrosted it..,and instead of the curry powder(i made some-so the taste could have had a insignificant shange),and added only 1 1/2 tbsp of oil as the chops can get really fatty...All in all it was a nice curry served with saffron rice,but will advise others to go easy on the chillies....
In a large bowl, combine two tablespoons of oil, one tablespoon of lemon juice, 1/2 teaspoon of turmeric, salt and pepper into a paste.
Add lamb pieces and mix thoroughly to coat; cover, and let marinate for 30 minutes.
After marinating, drain the marinade and pat-dry lamb pieces.
In a processor, blend chopped onion, garlic, ginger, fresh red chilies, cumin and curry powder, asafetida, and turmeric into a smooth paste.
In a non-stick pan heat two tablespoons of oil.
Add dried red chilies and fry till dark.
Add spice paste; fry for another few minutes until the oil starts to separate from the spices.
Transfer marinated lamb to the pan, add salt and pepper and stir well to brown on high heat.
Reduce the heat to medium and continue to stir fry lamb until cooked tender.
It may require some broth or water to moisten, if it starts to burn.
Add green peas and green onions; stir for another two minutes.
Adjust seasoning with salt and pepper.
Drain excess oil, if necessary.
Serve with stir-fried vegetables and rice or roti (flat bread).