La Madeleine's Country Potato Soup (Copycat)
curvy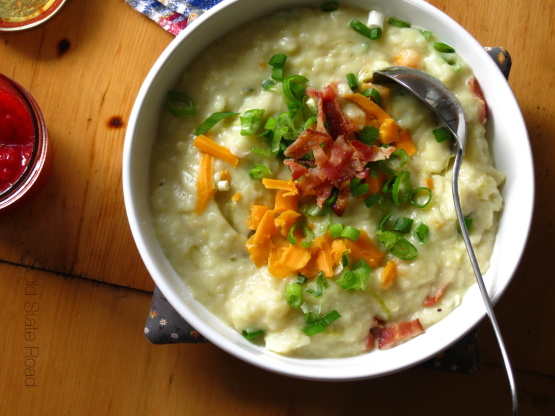 This recipe is from Executive Chef Remy Schaal of la Madeleine French Bakery & Cafe. Founded in Dallas in 1983, la Madeleine has many neighborhood cafes and bakeries in five states and Washington, D.C. Excellent potato soup!

Top Review by curvy
What a wonderful copycat! I was cooking for a crowd so had to triple the recipe, and it still turned out lovely. I made two small adjustments. First, I removed the thyme before adding the cream. I accidentally added too many sprigs and was afraid of it being overpowering. Second, I pureed the soup in my blender before serving. I had to do it in small batches, removing the center piece from the blender's lid and covering the hole with a cloth to allow the steam to escape. It resulted in a wonderful, creamy texture. My friends and family really enjoyed this. I'll be making it again!
In a large saucepan, add butter, leeks and onions, and cook.
(Do not brown vegetables.) Add chicken stock, potatoes, salt and fresh thyme.
Cook for 40 minutes over medium heat, stirring frequently to avoid scorching.
Add cream, bring to a boil and serve hot.
Garnish with Cheddar cheese and diced bacon.