Kung Pao Shrimp with Cashews
Ms B.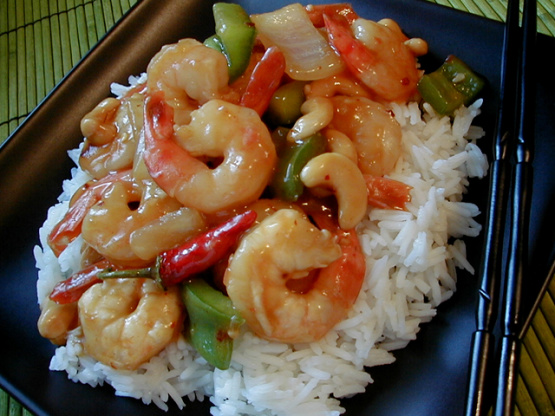 Chiles add heat to succulent shrimp with cashews. It is essential to have all ingredients cut and ready before you start. From Food & Wine magazine.

Velly good! Serve with fried rice to dampen the chilis when they begin to muscle up on you.
In a bowl, mix the orange juice, vinegar, soy sauce, sugar and cornstarch.
In a wok or large frypan, heat the oil over high heat until smoking.
Add the chiles and salt; stir-fry until browned, 45 seconds.
Add the onion, ginger and garlic; stir-fry until fragrant, 15 seconds.
Add the peppers and cook until crisp-tender, 30 seconds.
Add the shrimp and stir-fry until nearly cooked through, about 5 minutes.
Stir the sauce, add to the wok and cook until thickened slightly, 30 seconds.
Stir in the cashews and sesame oil; serve.