Kittencal's Honey-Garlic Glazed Meatballs
Fiddler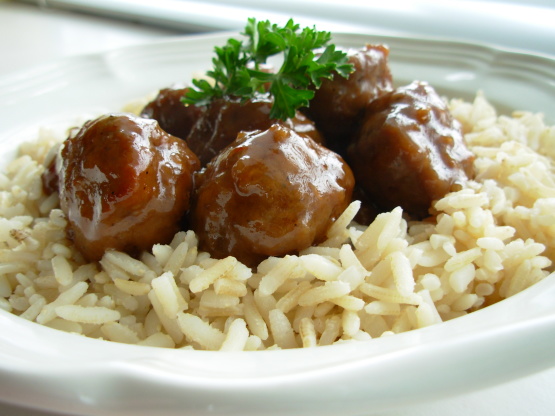 This is an easy recipe made even easier if your meatballs are pre-made ahead of time which makes this a perfect weekday meal served with cooked rice ---I have listed the chili flakes as optional you may adjust to suit taste or omit, my family likes extreme heat so I use 1 teaspoon --- the meatballs must be pre cooked before adding to the sauce, you may use frozen cooked store bought meatballs or use your own favorite recipe, you may double the sauce recipe if desired, prep time does not include preparing and cooking the meatballs.

Delicious! I do not recommend the red pepper flakes being optional, I think they should be required in order to balance the sweetness. I followed the recipe exactly using frozen meatballs, and with a full 1lb of meatballs there was plenty of sauce to go around. I will make this again in the crockpot for cocktail meatballs as I found it much tastier than the chili sauce/grape jelly recipes.....
In a bowl whisk together chicken broth with cornstarch until no lumps remain.
Add in soy sauce, vinegar and brown sugar; mix to combine; set aside.
In a medium saucepan heat oil over medium heat.
Add in fresh garlic and chili flakes; saute for 2 minutes.
Add in the broth mixture with 1/2 cup honey; bring to a simmer stirring continuously until bubbly and thickened (about 3 minutes).
Reduce the heat to low and add in cooked meatballs, simmer until heated through.
Serve with cooked rice.