Kinda Amish Macaroni Salad
Pamela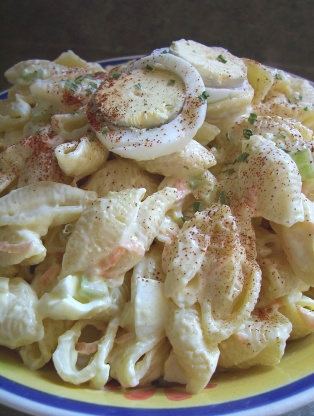 Why only "kinda" Amish? Good question - shows you're paying attention. While the recipe from which this was adapted proudly proclaimed to be Amish Macaroni Salad, I found it to be much too sweet and not eggy enough for our tastes. After playing a bit with proportions and trying different types of vinegar and mustard, this is what resulted -- and although it's only Kinda Amish, it is, indeed, Very Deelish. You may save one hard cooked egg and slice it to arrange on the top, then sprinkle with paprika. Or you can just put all of the eggs in the salad and mix in some paprika too, and garnish with a few little tufts of fresh parsley. Or, for the presentationally-impaired like myself, just use all the eggs right in the salad, and forget the paprika and parsley. Parsley's always a little bit suspicious in my book anyway - once I got some parsley from a salad bar and it was plastic. Yeah, it was part of the decoration, but you know, they could warn people. "Attention Restaurant Patrons: Salad Bar Decorations Are Non-Edible. Everything Else Is Okay To Eat. No, Really. We Mean It." Oh, by the way, you'll want to prepare this a day ahead, and chill overnight in a padlocked refrigerator. Otherwise, it'll vanish long before you planned to serve it.

I was looking up Amish Macaroni Salad since that was my assignment for today\'s picnic......and right here you were sis! You\'re always there to help me out! I left out the carrot and only used 5 eggs since that is all I had. The taste is great for a Weber family picnic. Not fancy, just plain yummy! My husband added salt to his.........
Combine mayonnaise, vinegar, sugar and mustard; Chill in refrigerator until needed.
Cook macaroni as directed on package, just until tender; drain and cool.
Combine macaroni with celery, carrots, onions and eggs.
Pour mayonnaise mixture over all and stir to mix well.
Refrigerate overnight in tightly sealed container.
It may seem a bit wet at first, but after it chills overnight, it's just right.
There's no salt in this recipe-- if you must, add 1/2 teaspoon to the mayonnaise mixture.
We're not sodium restricted and we like it just fine without.