Prep 10 mins
Cook 15 mins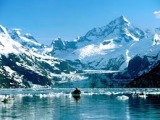 This is a recipe I created when I had a craving for shrimp. It's simple yet has big flavor. I typically plan on 6 large shrimp per person, but you can adjust to your own preference. I like to serve this over wild rice with a nice salad on the side. I hope you enjoy. :-)
8 tablespoons unsalted butter (use the real butter)
1 bunch green onion, chopped
1 green pepper, chopped
1 red pepper, chopped
6 -8 mushrooms, sliced
0.5 (10 7/8 ounce) can cream of celery soup, so about 5 oz. (undiluted)
1 -2 teaspoon curry
salt and pepper, to taste
24 large uncooked shrimp, peeled and deveined
1⁄2-3⁄4 cup heavy cream
long grain and wild rice blend, cooked
Directions
Melt butter in a large skillet, med. to med. high heat.
Add the green onions, green peppers, red peppers and mushrooms.
Saute for approximately 4 minutes.
Add 1/2 can of soup, curry (I use 1 t. but you can add up to 2 t. if you want the curry flavor to predominate), salt and pepper.
Let sauce cook and thicken. (Approx. 5 minutes , you judge as to when the sauce thickens up for you.).
Add shrimp.
Add heavy cream. If it's too thick, you can add a little more heavy cream.
Simmer for about 8 minutes, or until the shrimp is cooked through.
Serve atop cooked wild rice (you can use white rice, if you prefer).
Enjoy!
Reviews
Most Helpful
We enjoyed this recipe for dinner tonight. It was easy to make and looked colorful and pretty on the plate. We initially used Madras curry powder in the specified amount. After tasting, DH doubled the curry using hot curry powder. We then sprinkled a little hot curry powder on the finished dish for additional flavor. We served over Texamati rice, as that was what we had on hand. Made for PAC Spring 2013.

How could I not love this!? This is all the goodness combined into one. I don't even know where to start, but darn - I could of easily done this in one sitting. I adore the curry amount of seasoning, it is right on! (I used 1 teaspoon, because I made 1/2 recipe). This was terrific, and served with steamed broccoli and nice brown rice. Made for ZWT 6 - Zee Zesties!

This was very good! I used a combination of red, orange, and yellow peppers (what I had on hand) and the larger amount of curry powder. The only improvement would be to make a homemade substitute for the cream of celery soup, so the celery would not be so mushy. We didn't like that. But, overall a very easy, tasty dish. Made for ZWT 6.