Kahlua & Date & Nut Bread
Mandy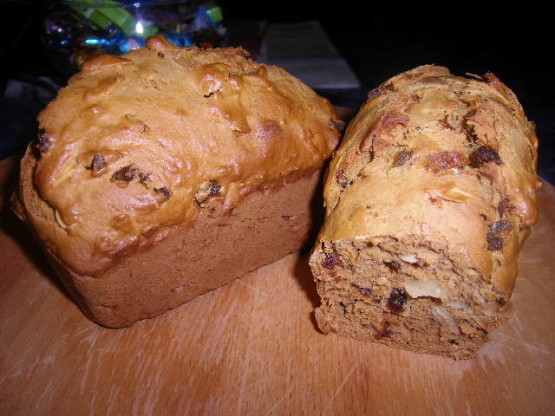 Kahlua-mmmmmmmm, dates-great, nuts-yummy. When I saw this recipe I had to try it immediately. Slice thinly, enjoy with a cup of tea or maybe even with a small glass of Kahlua.

Delicious bread and with it's hint of chocolate from the Kahlua, the background taste of citrus and the sweetness of the dates -- you can't go wrong. The bread is not overly sweet and we liked that -- it was a little crusty on top, but was nice and moist inside despite the absence of oil or more butter. Will definitely make again! Made for Sweet December tag, December, 2013.
Preheat the oven to 350°F.
Grease a large loaf pan (10x3x3inch).
Mix dates, Kahlua, water and orange peel.
Let stand and soak while preparing batter.
Cream sugar, margarine and egg together until fluffy.
Sift flour with baking soda and salt.
Add to creamed mixture, alternately, with date mixture.
Stir in nuts.
Turn into prepared pan.
Let stand 5 minutes.
Bake for 60 to 70 minutes.