Jimmy Dean Hearty Sausage and Potato Soup
Leigh J.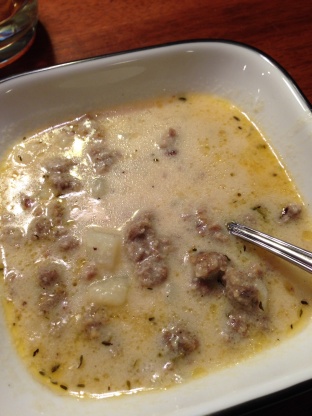 From Jimmy Dean. I changed up a bit to our liking. I will note our changes.

How do U think this sausage potato soup will freeze?, I have heard that some potato soups are not the same when taken from the freeze >< I want to make a Potato soup and bring it to a couple that are having some Health problem, and cant do much cooking, I am hoping they can freeze the left overs for a couple extra meals
Melt butter in a large saucepan over medium heat.
Add onions; saute until tender.
Stir in flour; cook 1 minute, stirring constantly.
Gradually stir in chicken broth; bring to a boil; stirring frequently, until thickened and smooth.
Stir in milk, cream, thyme, sausage and potatoes. Bring to a boil, reduce heat and simmer uncovered for 15 minutes.
Stir in Parmesan Cheese. Serve hot.