Jasmine Chai Rice Pudding
Kathy228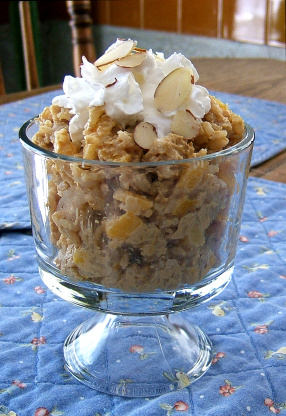 From Cooking Light. Although it keeps in the fridge for several days, it's best served warm. Add a touch of extra milk to reheat.
Words cannot describe this pudding. Amazing, delicious... Followed the recipe exactly, only omitted the butter because after tasting it I felt it did not need it, so I saved some calories there. This does not need milk if you eat it right after it's done on the stovetop, but will need it after it starts to coagulate after sitting for awhile. Thank you for posting. Be sure to use fresh orange peel - this is the best touch!!!
Combine water,tea,salt and 1 cup of the milk in a large saucepan and bring to a boil.
Remove from heat and steep for 1 minute.
Strain milk mixture through a fine sieve into a bowl and discard solids.
Return milk mixture to pan over med. heat.
Stir in rice, cover and simmer for 10 minutes.
Combine remaining 1 cup of milk, condensed milk,fruit and egg yolks, stirring well with a whisk.
Gradually add half of the hot mixture to the egg yolk mixture, stirring constantly with whisk.
Return milk mixture to pan and cook 10 more minutes or until or until mixture is thick and rice is tender, stirring constantly.
Remove from heat and stir in butter.
In a separate bowl, combine nuts and orange rind.
Place pudding in serving bowls, top with
Cool Whip and sprinkle with nut mixture.