Jamaican Short Ribs (Crock Pot)
Calee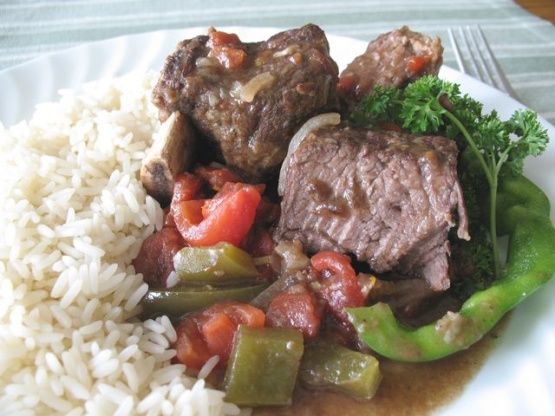 We love Short Ribs, the meat is tender. ENJOY. Finalist in RSC#8 Caribbean contest.
Came across the recipe and just HAD to try it. The meat was amazing and fell off the bones as promised. I did have to make a substitution - I did not have canned tomatoes, so I used a pint of grape tomatoes sliced and it gave the sauce a wonderful fresh taste. The tomatoes kept their integrity very well. I also added a scotch bonnet that I pierced but left whole. That gave that little extra kick that to the dish that was wonderful!
Pour Olive Oil in skillet over med high heat.
Salt & Pepper Short Ribs to taste.
Dredge Short Ribs in Flour.
Brown all sides of Short Ribs in skillet.
Put layer of sliced Sweet Onions on bottom of Crock pot.
Remove Ribs from skillet, place on top of onions in Crock pot.
Deglaze skillet with 1/2 cup Beef Broth.
Pour liquid in Crock pot.
Mix the remaining 1/2 cup of Beef Broth, Rum, can Diced Tomatoes, Diced Red Pepper, Ginger, Garlic, Brown Sugar, Thyme, Cinnamon, Nutmeg, Red Pepper Flakes, Orange Zest, in a bowl, pour over Short Ribs in Crock pot. Cook 6-8 hours on low setting until meat is falling off bone.
Serve over cooked rice.