Debber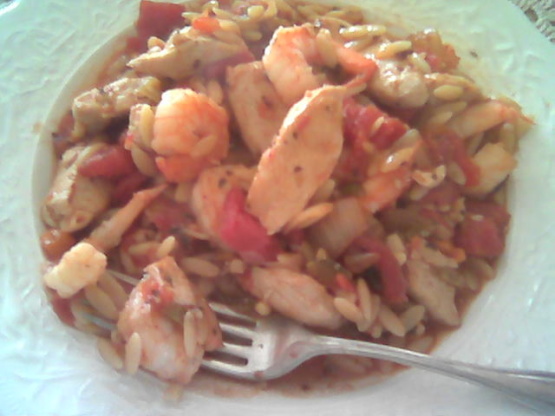 This dish is always a hit! The shrimp, orzo, tomatoes and cayenne pepper remind me of a Creole favorite, but the Italian seasoning adds a different twist. The strips of chicken thighs stay nice and moist during the slow cooking.

Top Review by Debber
Ummm, this was SO good! The whole family loved it. A wonderful change from the usual "buttery-garlic shrimp scampi" I usually make! I made a few adjustments since I totally missed the part that it was supposed to go in the crockpot for 6-8 hours! But not to worry...this is a FINE stove-top recipe too. Used breast meat instead of thighs. Cooked the pasta while the other stuff was burbling happily; didn't add the whole 28 oz. can of tomatoes; added the pasta (al dente) toward the end of the cooking time right before adding the shrimp. Were out of celery so I skipped it, and left out the cayenne on purpose. Used frozen chopped green pepper instead of bigger fresh pieces---could see where bigger pieces would have LOOKED nicer, but we'd rather have smaller bits. This is a GREAT one-dish meal, and made a very nice celebration dinner for our son's bon-voyage (bus. ed. claas trip to New York City). Fancy enough for dinner guests. Definitely goes in the KEEPER file.
In a large skillet, brown chicken in oil; transfer to a 3-qt. slow cooker. Add the next 10 ingredients; mix well. Cover and cook on low for 7-8 hours or until chicken juices run clear. Discard bay leaf. Stir in the pasta; cover and cook on high for 15 minutes or until pasta is tender. Stir in shrimp; cover and cook for 5 minutes or until the shrimp are heated through.