vrvrvr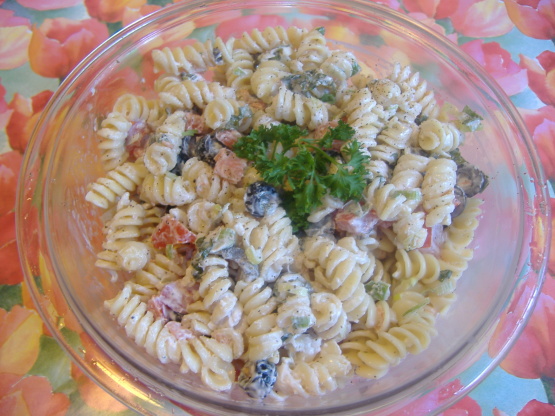 Easy and great served at any gatherings.

Top Review by vrvrvr
Easy and great indeed! This recipe is almost identical to one in my old, stained and often-used "Hellman's Mayonnaise: Over 100 Ways to Bring Out the Best" paperback cookbook. I sent away for the cookbook in the late 80's and it's a treasure. Hellman's recipe calls for fresh basil and black olives (instead of green), and less pepper than Winnipeg Mel's. However, they are virtually the same recipe -- which is to say, delicious! I turn to this pasta salad recipe again and again and it has never failed to be a crowd pleaser! So glad to find it on Zaar!
Combine first 6 ingredients.
Mix well.
Stir in the remaining ingredients.