Italian Meatloaf Filled With Capicola Roll
Rita1652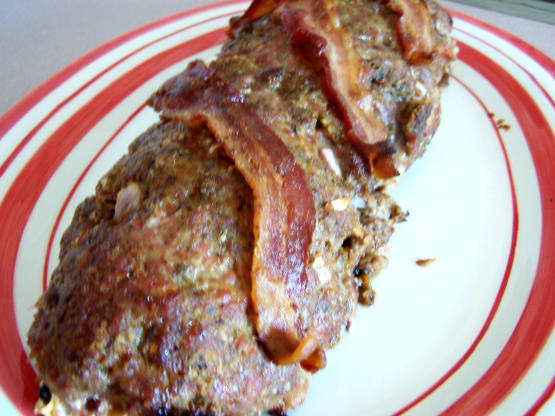 Meatloaf filled with Cappicola and Mozzarella roll is seasoned with spices and store bought pesto and sundried tomatoes in oil which you puree. Please take note that the pesto and sundried tomatoes have seasoning and garlic added so adjust to taste.

This caught my eye, both because of the name and because the end product sounded so different from "meatloaf". Nothing to do with being a food snob, I just never liked meatloaf much. Well, I've finally made it and it is fantastic! This is amazing, and takes only about 2 minutes longer to make than traditional meatloaf. Not only does the stuffing give it a really delish twist, it looks very pretty! The pesto and sundried tomatoes make the meat super flavored with the tomato flavor really peeking through. (I'll add a bit more next time actually cuz I loved it). Changes: I don't eat bread, so I subbed parmesan cheese for the breadcrumbs. I didn't find a capicola roll, so had to use about 8 slices capicola down the middle and 6 slices mozz cheese - rolled as per the recipe. Thank you RitaL - This was really fun to make, and both my dh and I loved this. It's going in my binder and I'm going to pass it on to my family and friends to make!
Preheat oven to 350 degree`s.
In a large bowl add the bread crumbs and broth and let soften.
Add the next 8 ingredients mix in well(Pesto to pepper flakes).
Add the meats and eggs mix together.
On a damp counter place plastic wrap down. Then the meat mixture in one layer 9 x 12.
Lay the ham & cheese roll in one row across the long lenght of the meat. Press the Cappicola into the meat.
With the aid of the plastic wrap pull up the long side meat over the cheese and continue to roll sealing in the cheese.
Roll onto a large baking pan. Adjust the roll so seam is down and cheese is seal inches. removing the plastic wrap, add discard wrap.
Place the bacon slices over meat if using.
Bake in oven for 40-50 minutes. Or until internal temp is 160 degrees when inserted in center of loaf.
Let the meat rest room temp for 15-20 minutes. Important for the juices to redistribute.
Serve with your favorite tomato sauce.