Irresistible Chewy White Chocolate Chip Cookies
Dustina M.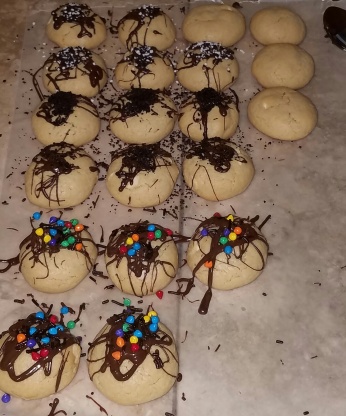 Soft, chewy, delicious, and EASY! These cookies will disappear as soon as they are taken out of the oven. The sweet flavor of the white chocolate chips is irresistible!
Top Review by Jo M.
I love this recipe! I'm very glad that I found it online. This is my second time making them, mine are in the oven now with 3 mins to go! I like that this recipe is so versatile. You can substitute endless ingredients for the white choc. or add them to it. I always only use half a bag and that is PLENTY. This is the only recipe ive found online that I didn't have to change. I followed the measurements and instructions to a T and it was perfect. Someone before me said the dough was crumbly so they had to add water, that's not so I promise. It may be crumbly after u add the 3rd cup flour but all it takes is some vigorous styring & folding. I even use my hands a bit towards the end. I don't recommend adding any water if u follow this to the letter they'll turn out great. These cookies are decadent enough for holidays, events or special occasions, yet easy & simple enough for whipping up on a Wednesday afternoon for yourself and family. Thanks Food.com! -Jo Molly
Pre-heat oven to 350 degrees.
Cream together margarine and eggs until smooth. (Add the eggs 1 at a time.).
Add the granulated sugar followed by the brown sugar.
Add the flour 1 cup at a time.
Add vanilla, salt and baking soda.
Add the white chocolate chips 1 cup at a time.
Bake in the oven for 12-13 minutes.
They will be very soft when removed from the oven, but immediately use a metal spatula to remove them from the cookie sheets to let the cookies cool.