MsPia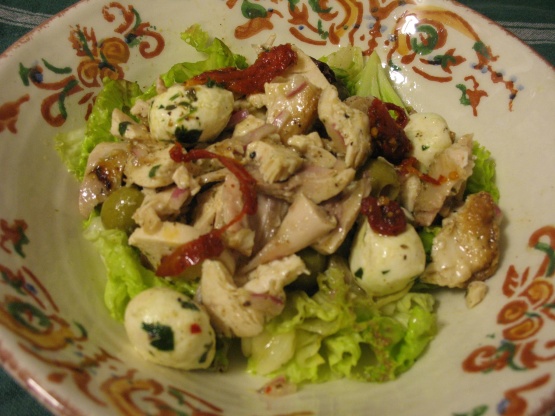 We loved this. It was very easy to put together, and very very yummy! I did make a couple of substitutions: I used 1/4 cup oil, and 1/4 cup water to the dressing, and had to substitute red onion for the shallots. I didn't have any brocconcini, so I used 3/4 cup shredded mozzerella. You do need to add all the dressing. (I thought at first that it seemed a lot, but there's not a lot of flavour in the chicken or cheese, so it needs all the dressing. And a word of caution: watch the crutons carefully. I nearly burned mine! My husband's even asked for a print out of the recipe so he can make it himself. I guess that means this is a keeper! Thanks Ms. Pia!
For the croutons

4

cups cubes Italian bread (from a 1/2 lb crusty round loaf)

2

tablespoons extra virgin olive oil
1⁄4 teaspoon salt

For the vinaigrette dressing

1⁄4 cup red wine vinegar

2

teaspoons Dijon mustard

2

tablespoons finely chopped shallots

1

teaspoon sugar
1⁄4 teaspoon salt
1⁄8 teaspoon black pepper
1⁄2 cup extra virgin olive oil

For the salad

2

cups coarsely shredded cooked chicken (1/2 lb, from a rotisserie chicken)

1

cup bocconcini (small fresh mozzarella balls, 6 oz)

2

romaine lettuce hearts, torn into bite-size pieces (3/4 lb total)

1

(8 ounce) jar roasted red peppers, rinsed, drained, and cut lengthwise into 1/4 inch wide strips

1

cup assorted marinated oil-cured olives (5 oz)
Prepare the croutons:
Put oven rack in middle position and preheat oven to 400°F
Toss bread cubes with olive oil and salt in a large shallow baking pan and spread in 1 layer. Bake, turning over once, until golden and crisp, about 8 minutes. Cool in pan on a rack.
Make vinaigrette dressing and begin preparing salad while croutons bake:
Whisk together all vinaigrette ingredients except olive oil in a small bowl until combined. Add olive oil in a slow stream, whisking until emulsified.
Toss chicken and bocconcini mozzarella together with 1/4 cup vinaigrette in a bowl and let stand 10 minutes to allow flavors to develop.
Prepare the salad:
Toss together romaine lettuce, red peppers, olives, chicken and bocconcini mixture, croutons, and remaining vinaigrette in a large bowl until combined. Makes 4 main-course servings.