"i Yam What I Yam" Muffins
PaulaG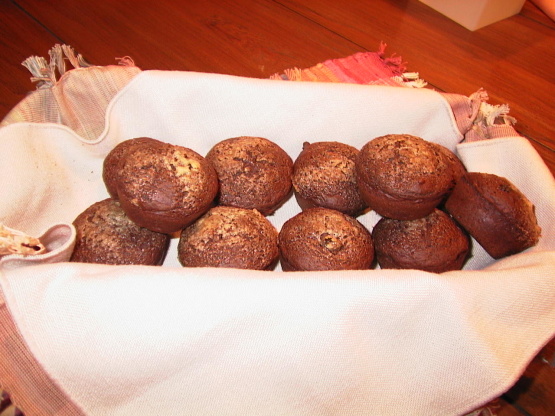 These muffins may have slightly different ingredients but the end result is a wonderful rich, moist muffin. The sugar sprinkled on top before cooking gives a slightly sweet crunch and cracked glazed appearance.

I used only all-purpose flour for this recipe and, because sorghum is unavailable, here, subbed molasses instead, which worked out fine, although it may have made the muffin a bit darker in appearance. The muffins were very nicely-flavoured - the spice /cocoa/citrus combo coming out well. Good rise, and tender crumb. Excellent accompaniment to a cup of hot coffee!
Preheat oven to 375 degrees.
Spray muffin tin with non-stick cooking spray and set aside.
Place the raisins in a small bowl and pour the 1/4 cup boiling water over them.
Cover and set aside while preparing batter.
Combine the flours, cocoa, baking powder, cinnamon, cloves, baking soda, and salt.
Lightly beat eggs with sorghum, oil, mashed yams and orange juice.
Add the egg mixture and buttermilk alternately to the dry ingredients, stir until well blended.
Drain the raisins and add to batter along with orange peel.
Spoon batter into prepared muffin tins, sprinkle 1/4 to 1/2 tsp of granulated sugar over each muffin.
Bake in preheated oven for 15 to 20 minutes.