Annacia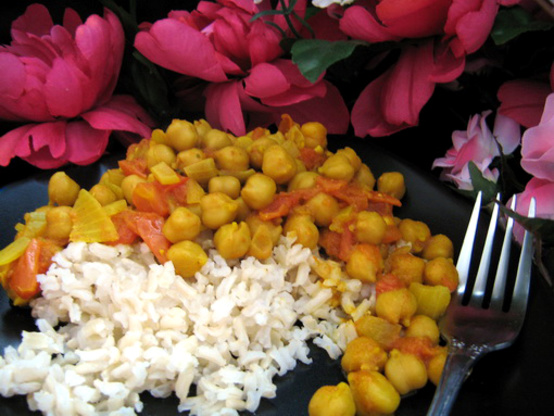 A nice spicy Indian chickpea recipe. I know, I know. The beans come from a can. Yeah, yeah. But I was so hungry, and I was in a hurry! Remember this little dish the next time you're short on time, too! To serve as a vegetarian main dish, increase the quantity. Reheats well, too.

I made this for lunch this afternoon. I scaled it down to 2 servings. I can't thank you enough for this recipe. Reasons:- 1. Without even a drop of oil, I could never imagine cooking chole, this recipe did the unbelievable and the dish was liked by all at the lunch table. This is good for those of us who are trying to cut down on fat in our food. 2. This was ready really quick. I suggest you title it 'Instant Chole Without A Drop Of Oil". 3. This recipe uses minimum masala powders which is again very good. I'll be making this very often from now onwards. My mom, dad, even my picky eater brother and me, we all THANK YOU SO MUCH for this flavourful no-oil chole sabzi. Thanks!
In large saucepan over medium heat, heat cumin seeds, bay leaf and cinnamon until very fragrant, swirling around to prevent burning.
Add ginger and garlic, cooking until the smell of those fills the air, then add onions.
Saute onions, stirring frequently, and adding drops of water to prevent sticking, until they are translucent.
Add the tomatoes, coriander, turmeric, salt, and cayenne.
Check for seasoning, adding more as you prefer.
Bring to a boil.
Add garbanzo beans (chickpeas), cover, and reduce heat.
Simmer on low for 10-15 minutes.
Stir in garam masala and lemon juice just before serving.
Garnish with a sprinkle of chopped cilantro if you desire.
Serve with rice, or Indian breads or pitas (breads are best warmed on a hot griddle).