Hot Fudge Pudding Cake (Microwave)
loof751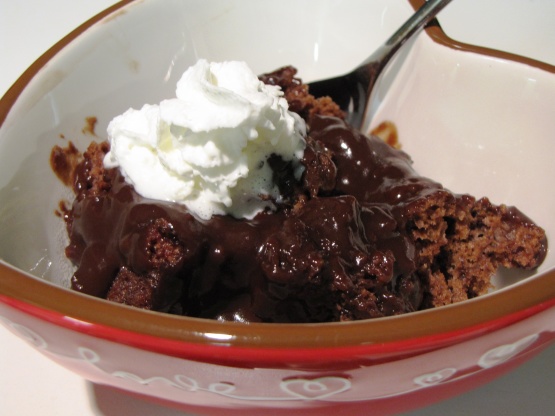 I grew up with a dessert called Hot Fudge Pudding Cake. It was a package mix. This is the closest to the original recipe I've had. Similar to other brownie cakes listed but less ingredients and microwave cooked. One of my all time favorites.

Made this tonight and it was great! We loved it! It was so quick and easy and can be made at the last minute. I would recommend using a 9 inch pan as it overflowed in the 8 inch. We topped it with whipped cream. Delish! I would also recommend making it with real butter as well as that is part of what makes the flavor so superb. Thanks for a great recipe!
Combine first 4 ingredients in a glass bowl or 4 cup glass measuring cup.
Microwave for 4 minutes or until bubbling.
Combine cake ingredients in a 8 or 9 inch glass cake pan. Stir until smooth.
Pour liquid topping mixture over cake. Microwave for 9-12 minutes until cake rises to top.
Serve. Can top with whip cream or ice cream. Love it with vanilla. Enjoy.