Honey-Sauced Chicken Wings
ImPat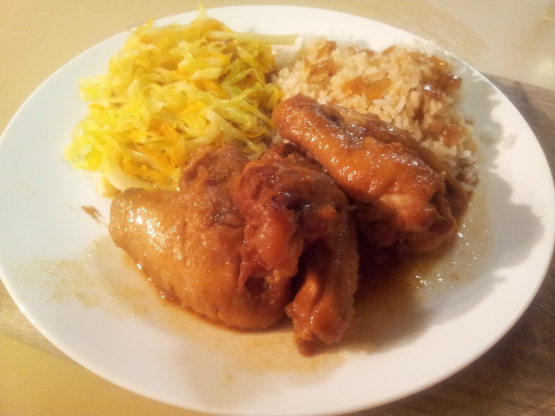 Treat your sports fans to a slow-cooked pot of chicken wings when they gather to watch a weekend game on television!!

Top Review by ImPat
I only cut the tip of the wings and left the rest intact and then browned off in the frypan before putting them into the crock pot with the sauce/marinade and then cooked for 3 hours on low and then 1 hour on high for moist succulent wings and the sauce was great served over the wings and the rice, though next time I will put the sauce into a pot and thicken with some cornflour/cornstarch slurry. Thank you Chef mariajane, made for Name that Ingredient tag game.
Preheat broiler. Cut off and discard chicken wing tips. Cut each wing at joint to make two sections.
Sprinkle wing parts with salt and pepper. Place wings on broiler pan. Broil 4-5 inches from heat for 20 minutes, turning once, or until chicken is brown. Place chicken into 5L slow cooker.
SAUCE: In a bowl, combine honey, soy sauce, onion, ketchup, oil, garlic and pepper flakes. Pour over chicken wings.
Cover; cook on low for 4-5 hours or on high for 2 - 2 1/2 hours.
Garnish with sesame seeds, if desired.