This is a good ole southern honey apple mixture. Hope you try and enjoy.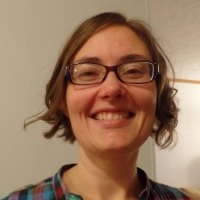 This pie is delicious; it is definitely getting made again. I made a few minor adjustments when I made it. I had small apples so I ended using nine apples, not five. Also, instead of dusting the apple mixture at the end, I mixed the cinnamon and nutmeg right into it. Finally, and probably the biggest change, I didn't use any sugar, rather I changed the honey amount to a whole cup instead of a 1/4 cup.
Sprinkle pastry with 1 Tablespoon each of sugar and flour.
Combine the remaining sugar and flour; stir in honey and cream.
Pour this mixture over apples in large bowl.
Mix gently until slices are well coated.
Spoon apples into pie shell and dust with cinnamon and nutmeg; dot with butter or margarine.
Bake at 375 degrees for 35-40 minutes.