Homemade Ravioli with Tomato Sauce
Linajjac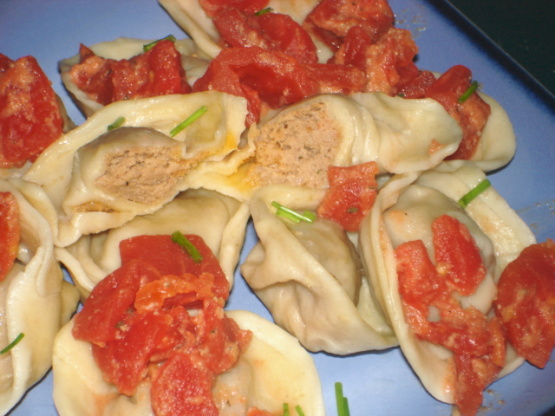 A little bit of work for this one, but well worth the effort for a special occasion. My husband has even helped make these once to help satisfy one of my pregnancy cravings!!

These were amazing! i only made the raviolis and not the sauce. It was my first time making ravioli and the directions were so helpful. i did leave the cheese out of the filling, but it was still great. i doubled the recipe and froze a bunch. They're better fresh, but are still tasty after being frozen. i will definitely be making this again!! Thanks oodles, Pamela!
Sauce-In a saucepan, or crock pot, combine all ingredients.
Heat until boiling.
Cover, reduce heat and simmer at least 30 minutes, until flavours are well blended.
Noodles- Mix together.
Knead for 10 minutes or until dough is elastic.
Add more water or flour accordingly.
Filling- Mix all ingredients together.
Roll out dough, cut into small rectangles, or circles.
(I use a hunky bill's perogy maker and fill the pouches as directed.) Fill pockets with filling.
Seal the edges with a little bit of water and pinch closed.
(Or add a second layer of dough on to your perogy maker and use rolling pin to seal edges.) Cook in boiling water for 15 minutes.
Serve with prepared sauce.
Especially good with garlic bread and sprinkled with parmesan cheese.