vrvrvr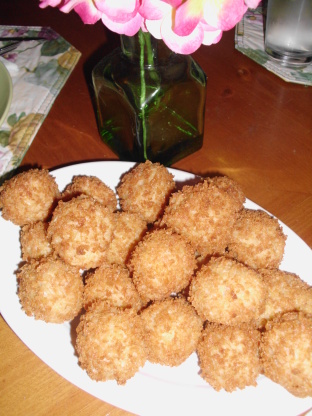 I found these in a 1970's Betty Crocker cookbook, a simple and tasty use for your leftover cooked rice. Prep time does not include one hour chill time.

Top Review by vrvrvr
Great! I used brown rice and doubled it, taking the Parmesan cheese to about 2/3 cup. (Which was plenty.) I added some spicy Emeril's Essence in place of poultry seasoning. These fry up very quickly, just a minute or two and done! They can be made ahead. I let them hang out on the kitchen counter for about an hour after frying, then heated them on a sheet pan in a hot oven for a few minutes. These little rice balls also take nicely to dipping sauce - the sky is the limit as far as compatible flavors. We mixed bbq sauce and a little mayo. Delicious plain, too!
Beat egg; stir in rice, poultry seasoning, salt and cheese. Refrigerate at least one hour. Shape by rounded teaspoonfuls into fifteen balls. Roll in bread crumbs.
Heat oil (2 to 3 inches) in 2 quart saucepan to 375°. Fry rice balls until golden brown; drain.