J-Lynn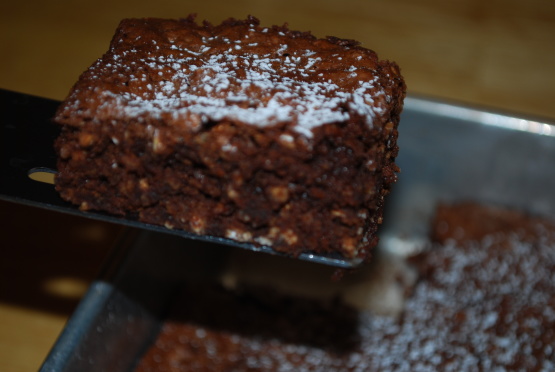 With wheat germ and oatmeal, I wasn't sure how good these would be... but they are one of the best chocolatey brownie recipes I've tasted outside of a box mix!! I got the recipe off allhomemadecookies.com and wanted to save it here.

I should have read the reviews first. The brownies taste very good, but indeed I had problems with them being crumbly. I made a couple of substitutions: coconut oil instead of butter, and 1/4 cup hemp powder instead of powdered milk. If I make this again, I will add a tbsp or 2 of liquid I think to increase moisture.
Melt chocolate chips and butter in the microwave about 45 seconds; stirring occasionally until completely melted; set aside.
Combine the dry ingredients, except for sugar, in a bowl.
In another large bowl, beat egg whites with sugar and vanilla until slightly thick.
Stir in chocolate mixture and then the dry ingredients.
Spread into an 8-inch square baking dish sprayed with cooking spray.
Bake at 350° for 25-30 minutes; until edges are firm and top is crisp.
Cool completely before cutting into bars.