Healthy Chocolate Chip Cookies
hlkljgk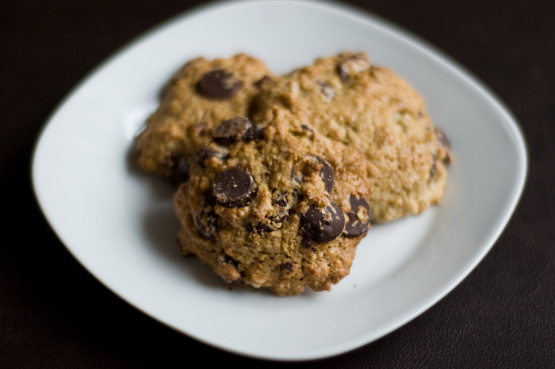 light and cakey, but secretly healthy cookies. Hey! this line is her fiance writing, and the cookies really are good. She isn't lying or anything.

I thought these were delicious!! I didn't think they even tasted "healthy." I used splenda for the sugar and it worked great. I think the cinnamon and nutmeg really make it! The only thing I didn't like was the way mine looked because I wasn't sure how big to make them on the pan. They didn't really expand when baked like I thought and so they came out small and not as flat as they should be, so next time I'll just place them out better. They still tasted great! lol
Combine dry ingredients.
Mix in olive oil, egg and milk.
Add spices and salt.
Add chocolate chips and nuts.
Bake at 350 for 10-12 minutes.
Enjoy!