Healthy Bow Tie Chicken Supper
Kathy228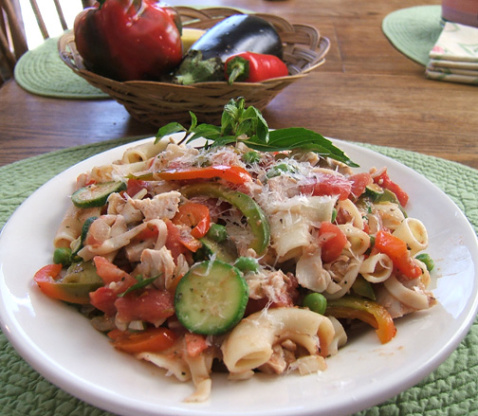 This healthy dinner is easy to make and very yummy! I like to add whatever extra veggies I have on hand to change it up. My husband is a picky eater with vegetables but he loves this dish! NOTES: I add a little more olive oil while the veggies are cooking as it adds a nice coat to the pasta. I also add extra pasta to this to make it stretch a little further. We really like adding summer squash as well and I have been omitting the peas lately because hubby dislikes them.

Top Review by OneEye
I made this again recently; I'd forgotten how good this recipe is. I actually ended up accidentally using pork cubes instead of chicken (the frozen meat wasn't labeled) but it tasted just as good that way. I think any meat cut into small pieces would work.
Start boiling water for pasta. Cook bowtie pasta until just al dente.
Meanwhile, in a large nonstick skillet over medium-high heat, saute chicken in oil for about 5 minutes, or until just done.
Remove chicken from skillet and set aside.
To the same skillet add the red bell pepper and onion and stir-fry for 2-3 minutes. Add another tablespoon of olive oil if needed to moisten.
Add the zucchini (and summer squash if using) and cook for another 2-3 minutes. Add garlic and cook for another minute until veggies get crisp-tender.
Add the thawed peas, tomatoes and seasonings; stir-fry for 2 more minutes.
Add cooked pasta, chicken and parmesan cheese; turn off heat and stir until combined.
Add more olive oil if necessary to coat pasta and sprinkle with more parmesan cheese if you'd like and enjoy!