Annacia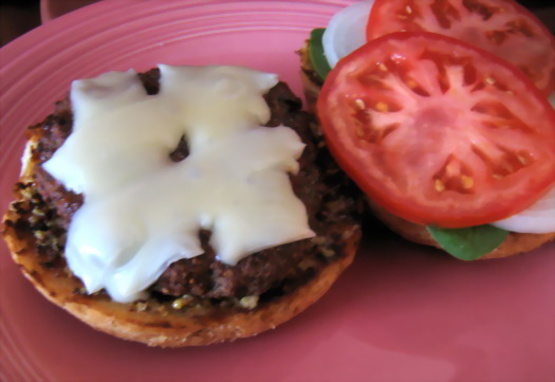 These are the juciest hamburgers ever! I've combined a few different recipes between meatloaf, meatballs, and plain old hamburgers. I've left out some measurements due to most of it is left up to your taste. Make sure that you've got a nice sized bowl to mix all of your ingredients in. (I use a big mixing bowl for mine)

This is a marvelous burger. I eat beef very rarely but this attracted me and I'm so glad that I gave in and made them. I didn't have BBQ sauce so replaced it with Smokehouse Marinade (fat and sugar free). I used extra lean ground beef and was generous with the Montreal Steak Spice. It wasn't BBQ weather but they tasted just fine cook in the broiler. Made for PAC, Spring '08
Put ground meat in mixing bowl (I've found that it's easiest to form the ground meat into the shape of the bowl).
Add the egg, and spread a thin layer of bread crumbs (enough to JUST cover the meat). Do the same with all of the rest of the seasonings (season salt, garlic, onion, parsley, McCormick Seasoning). Be sure to only put a LIGHT layer of spices. (You can always add a little more if you need to).
I don't measure my BBQ sauce or the Ranch Dressing, but I only pour enough to make a straight line across the bowl (If I had to measure I'd say MAYBE an eighth of a cup).
Add your tobasco, and mix all together. If your mixture isn't quite firm enough, add a little more bread crumbs).
Your mixture should be a little moist, but not so that it sticks to your hands.
Form into pattys and throw on the grill. Cook to desired temperature I normally let mine on med for about 15 minutes and they are thoroughally cooked and just right.