Ham and Sharp Cheddar Biscuits
Nimz1466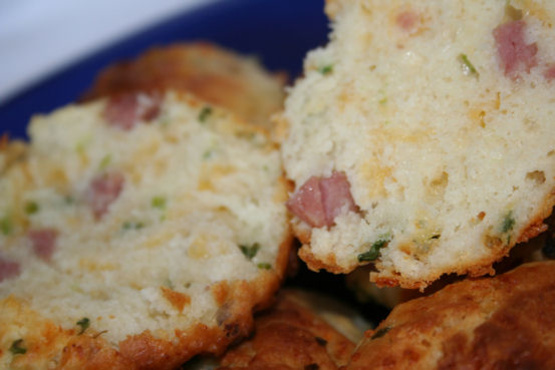 Yummy biscuits that are good for snack time or anytime.

Just baked these and...Wow! The only problem I have with these biscuits is staying away from them! I did want to share that I used Hudson Cream self-rising flour, omitting the baking soda and salt but using the full amount of baking powder. I baked them in a 10" cast iron skillet that I preheated in the 500 degree oven with about 2 T of bacon grease. I added 1/2 t of onion powder and 1 t of snipped chives, as well as the onions. I added the ham, cheddar, and gourmet buttermilk. I turned the temp down to 450 as soon as I put the pan in the oven and baked for 25 minutes. I will make these for a special weekend breakfast with eggs or to accompany some homemade tomato or split pea soup. Simply delicious!
Preheat oven to 500°F
Line a baking sheet with parchment paper. Combine onion and butter in a skillet over medium-low heat and cook until tender but not browned, about 5 minutes; cool.
In a bowl, combine flour, baking powder, salt and baking soda; add butter and mix with your fingers until mealy in texture. Add the onions, buttermilk, ham and cheese, stirring in with a spatula until just incorporated, but it still should be a bit loose.
Scoop out the batter with a large spoon to form 12 biscuits and lightly shape them with floured hands.
Arrange close together on the baking sheet for soft biscuits, or spread them apart for crisper biscuits.
Brush with hot melted butter.
Bake 5 minutes then reduce temperature to 450F and bake a further 15 minutes or until deep golden brown.
Cool in pan for several minutes then invert onto kitchen towel.
Turn right side up and serve hot.