Haluski (Pan-Fried Cabbage and Noodles)
Emily C.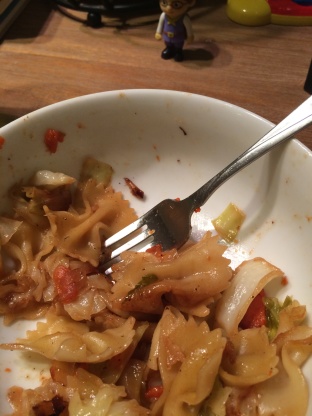 Haluski is a pan fried dish that both of my grandmothers used to make of butter, onion, cabbage and noodles. It makes a delicious main or side dish, whatever you're in the mood for. I personally like to let my cabbage get a little brown, but adjust your cooktime as necessary to your preference. The serving sizes will depend on how you are serving it.

I've made this a few times, and the only change I made is to use about 2 tblspoons of bacon grease, in place of all the butter. It adds that extra something, and it's a big hit with my family.
Cook egg noodles according to package directions, then drizzle with a bit of oil to prevent the noodles from sticking together and set aside.
While noodles are cooking, melt butter in large deep skillet over medium-low heat.
Add onion, sprinkle with brown sugar and saute, stirring occasionally for about 5 to 10 minutes, or until softened and just beginning to turn golden.
Add cabbage to skillet, stirring well to incorporate with onion, and saute for about 5 minutes, stirring occasionally.
Stir in caraway seeds if using, then cover, reduce heat to low, and let simmer for 5 to 10 minutes.
Turn heat back to medium, add cooked noodles, salt and pepper, and stir well until noodles are heated though.
Adjust seasoning if necessary and serve hot.