Grown-Up Rice Krispy Treats
J-Lynn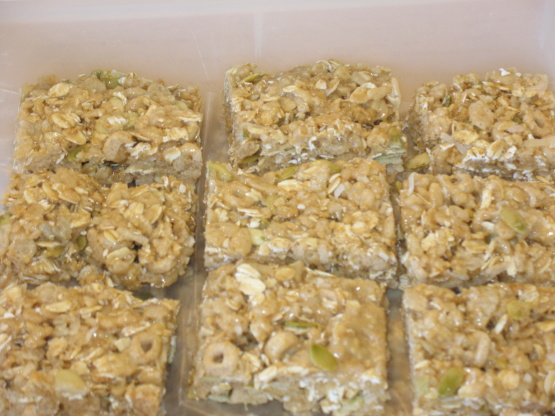 The flavor and texture of the classic Rice Krispy Treat, with added fiber and protein! Versatile recipe will allow the addition of whatever nuts, seeds, or candy you want to add- it's like trail mix in a bar! *I have found that if the bars set up too tough or chewy, you may have cooked the marshmallow mixture too long or just pressed them into the pan too firmly. Be gentle! (Similar recipe: Honey Chip Granola Bars. Different ingredient ratios.)
Spray a 15x10x1 baking pan with cooking spray.
In a medium saucepan over low heat, melt butter, peanut butter, and honey. Add marshmallows and stir frequently until melted and smooth.
In a large bowl, combine remaining dry ingredients EXCEPT optional chocolate. If adding any kind of chocolate, you must let the mixture cool almost completely before stirring in chocolate.
Pour marshmallow mixture over dry ingredients, stirring until well combined.
Press mixture into baking pan completely so that all ingredients stick together, but don't make it too compact.
Cool completely, cut into bars, and store in an airtight container.