Grilled Salmon With Chili-Lime Sauce
GaylaJ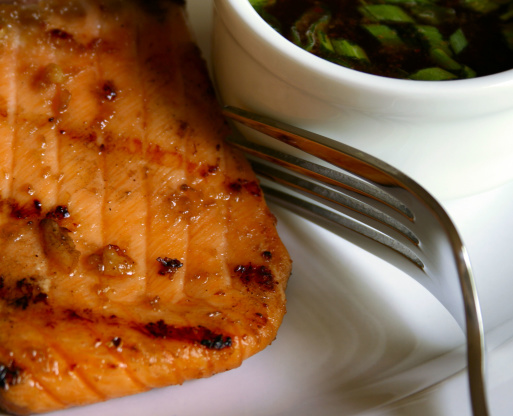 We just love salmon and really enjoyed this recipe for it, which was adapted from Quick & Easy Vietnamese. You can sub another meaty fish, if you wish, such as tuna or halibut.

The marinade was absolutely perfect. I wasn't crazy about the sauce however. I think the fish sauce came through a little too strong. Next time I'll try cutting it back by half in the sauce.
To marinate the fish, combine the oil, ginger, garlic, shallots, fish sauce, soy sauce, and sugar in a medium bowl; stir until sugar is dissolved and everything is mixed well.
Place the salmon fillets in the bowl and turn to coat with the marinade (or put the salmon in a zip lock bag, add the marinade, squeeze out air, and seal).
Cover and set aside for 20 to 30 minutes, or cover and refrigerate for up to 1 day.
To prepare the sauce, combine all ingredients listed for the sauce in a small bowl; stir to dissolve the sugar and mix everything well.
To cook the fish, build a hot charcoal fire or preheat a gas grill.
Place the fish carefully on the grill for about 5 minutes on each side, depending on the thickness of the fish and how well you like it done.
Transfer to a serving platter alongside the Chili-Lime Sauce and serve hot or warm.
Note: To bake in the oven, preheat oven to 375F and bake for about 15 minutes.