Grilled Pork Chops (Chuletas Asado a La Parrilla)
Jewelies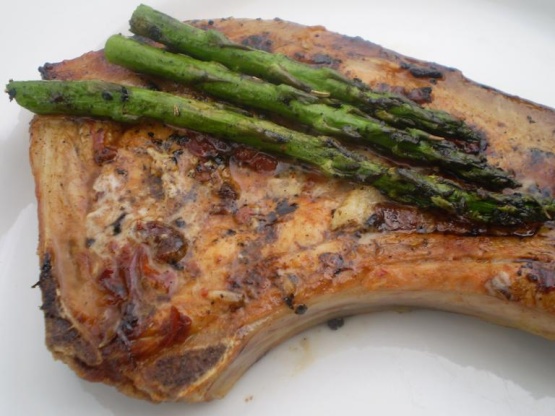 Delightful citrus and spicy grilled chops. From a Latin American web site; posted for ZWT3. Note: Prep time does not include marinate time.
Amazing grilled pork chops! Had pork chops defrosted to grill and decided to look for a recipe. This one was perfect! Had all the ingredients already, threw it together and let it marinate 3-4 hours and grilled to perfection! No other spices needed, it tasted amazing just as it was, and the marinade kept the pork chops juicy on the grill. Definitely going to make these again!
Rub both sides of chops with adobo.
Place chops in a deep baking dish. In a separate bowl, mix together orange juice, lemon juice, vinegar, and garlic.
Pour marinade over chops and turn to coat both sides of chops.
Let chops marinate in refrigerator for at least one hour or overnight.
Preheat your grill and grill pork chops over a low to medium low flame. Cook each side for about 10-15 minutes per side.
The pork chops are done when meat is white and has reached an internal temperature of 160 degrees F.