Grilled Beef Filet With Crab Cakes and Caramelized Onion Sauce
Nimz1466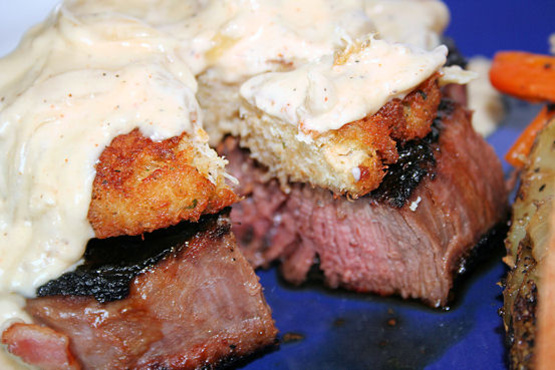 This is a lovely combination of crab and beef filet. The flavors blend together well and was a real treat tonight. You can certainly use fresh crab, but all I had was the canned, but it turned out well anyway, IMHO. Hope you will give it a try.
2

(6 -8 ounce) filet of beef, about 6-8 oz. each and 1 1/2 inch thick

1 -2

tablespoon extra virgin olive oil
kosher salt & freshly ground black pepper

2

(6 ounce) canswhite crabmeat, drained (or lump crab meat)
1⁄4 cup Italian breadcrumbs

1

large egg
1⁄2-3⁄4 teaspoon Old Bay Seasoning
vegetable oil, for frying the crab cake

1

tablespoon butter

1

small onion, sliced thin

1

cup heavy cream

1

pinch salt & pepper, to taste

1

pinch cayenne pepper (optional)
Bring the filets to room temperature and brush with the olive oil.
Sprinkle with the salt and pepper.
In a small bowl, mix the crab meat, breadcrumbs, Old Bay Seasoning and egg.
Make 2 crab cakes and refrigerate for 30 minutes.
Melt butter in a medium sauce pan over medium high heat.
Add sliced onion and sautée until the onions are nice and brown, about 20 minutes.
Add the cream and let this simmer until it reduces by half, about 20-30 minutes.
Season the sauce with salt and pepper and a little cayenne pepper if using.
Heat grill to high heat.
Coat the grade with vegetable oil.
Grill steaks on high for about 5 minutes on each side or to your desired doneness.
Let stand 5 minutes before serving.
Meanwhile, in a medium skillet add enough vegetable oil to fry crab cake over medium high heat (be sure your oil is hot before adding the cakes).
Cook the crab cakes for about 5-6 minutes on each side or until golden brown.
For assembly top each steak with a crab cake and coat with the onion sauce.