Green Beans With Pan-Roasted Red Onions (Thanksgiving)
Ms B.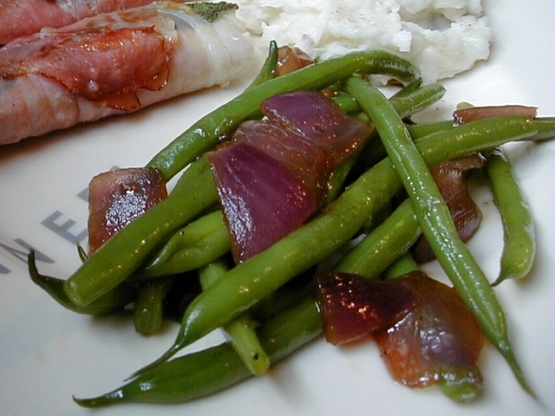 My friend, Amy, gave me this recipe for Thanksgiving and it was a hit. Great if you want a fast and easy preparation that is healthy. You may double depending upon your crowd. This recipe calls for a pound of fresh beans and 3 onions.

My husband really liked these. I like a different flavor in green beans (garlic and oil). The onions were amazing! I only had one red onion and some shallots so I used those. Thank you.
Bring water to a boil in a large saucepan; add beans and cook 6 minutes or until crisp tender; drain, keep warm.
Heat oil in large, non-stick skillet over medium-high heat, add onions and saute 8 minutes for until browned.
Add broth; cook 3 minutes, stirring occasionally.
Stir in vinegar and remaining ingredients.
Stir in beans; cover and cook 2 minutes.