Green Beans With New Potatoes
Prep 15 mins
Cook 1 hr 25 mins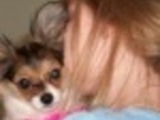 This is a Paula Deen recipe, but it is the way I learned to cook beans nearly 50 years ago. Usually I cut my potatoes in half instead of peeling the strip from them because its faster and easier. This makes such good beans that you'll be wiggling like a speckled pup.
Directions
Remove the ends from the beans. Snap the beans in 2 pieces, place into a colander, wash, and set aside to drain.
Meanwhile, in a large cast iron Dutch oven, lightly brown the salt pork in the bacon grease over medium heat, turning often, for approximately 10 minutes. Toss the green beans into the pot, stirring them with a wooden spoon to coat well with the pork fat. Add the broth, salt, pepper and garlic powder. Cook over medium-low heat, covered tightly, for approximately 30 minutes, or until the beans are half done.
While the beans are cooking, peel a center strip from each new potato with a potato peeler. At the end of 30 minutes, add the potatoes and onion to the beans; add 1/4 cup more broth, if needed. Cook, covered tightly, until the potatoes are tender, approximately 25 to 30 minutes, periodically checking the pot to make sure a small amount of liquid remains. When the potatoes are tender, tilt the lid slightly, off to the side of the pot, and continue to cook until the green beans are wilted, approximately 15 minutes. While cooking, add the butter and season with more pepper if needed.
Most Helpful
Superb! So simple, yet delicious. Made this once with salami, results were equally as good as with salt pork.
I am starting to gather my recipes for the holidays and came across this one. These are VERY good! I use a regular heavy dutch oven as I don't have an iron one. I also use thick bacon and satuee the onios in the bacon grease like Bunkie did. I don't add the butter at the end and I cut back on the salt by half. Yummmmy! Thanks for posting, Sandy.

Very flavorful! I used two large cans of Kentucky Wonder or Italian green beans. Didn't add the butter at the end, there's really no need. I think it would be way too greasy.