PaulaG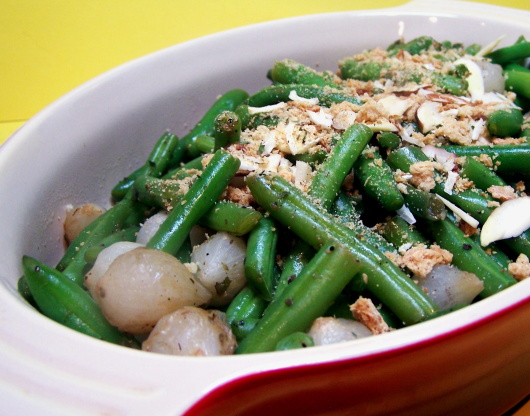 This is a classic American side dish courtesy of the American Heart Association.

These beans are just about perfect with everything you put them with. I've made them with an apricot chicken and fried catfish now and their flavors match great. I use frozen pearl onions in a cream sauce but everything else I leave the same. I would recommend this dish to anyone! Thanks for posting.
Trim green beans and slice into 2-inch sections.
In a large nonstick skillet, heat margarine over medium-high heat.
Add green beans and sauté 1 to 2 minutes, stirring constantly so beans cook evenly.
Add broth, oregano, and pepper; sauté for 20 to 30 seconds.
Add onions. Cook, covered, over medium-low heat for 6 to 8 minutes, or until beans are tender-crisp.
Meanwhile, in a small nonstick pan over medium heat, dry-roast almonds, stirring occasionally, for 2 to 3 minutes.
Sprinkle bread crumbs and almonds over cooked beans and serve.