PaulaG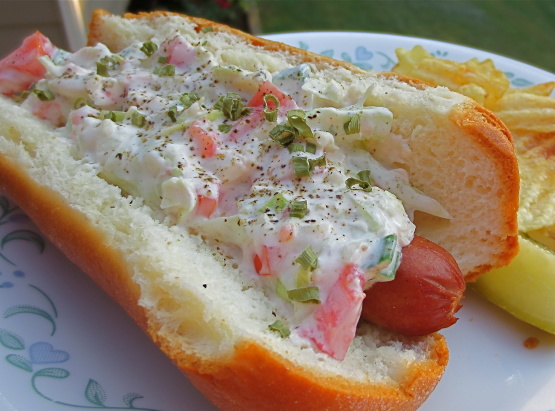 I make these with veggie hot dogs! From Southern Living magazine, July 2012.

Made for the Goddesses & ZWT-9 because I?ve loved hot dogs since my childhood & the most popular restaurant in Iceland is a hot dog stand! This recipe is all about the yogurt sauce, an easy-fix that was made as written until I got to the garnish list. As a pers pref, I don?t care for lettuce on hot dogs .. Cucumber was already in the yogurt sauce, so I added a bit extra .. Why use a bottled dressing when the yogurt sauce is the star of the recipe? .. & .. The red onion & tomato were easily added to the yogurt sauce. That said, we no longer needed a garnish list, but we did need some salt & pepper to give the yogurt sauce a flavor boost. We loved these hot dogs, ate them open-face so we could eat 2 of them, ladle on the sauce & east only 1 bun (See Pic). Yum :!: Thx for sharing your recipe w/us.
Stir together yogurt, mayonnaise, cucumber, chives, dill, lemon zest, lemon juice. Add salt and pepper to taste.
Cook sausages according to directions, or however you like.
Place sausages in buns. Top with yogurt mixture and lettuce, red onion, tomato, cucumber and Greek dressng.
Enjoy!