Derf2440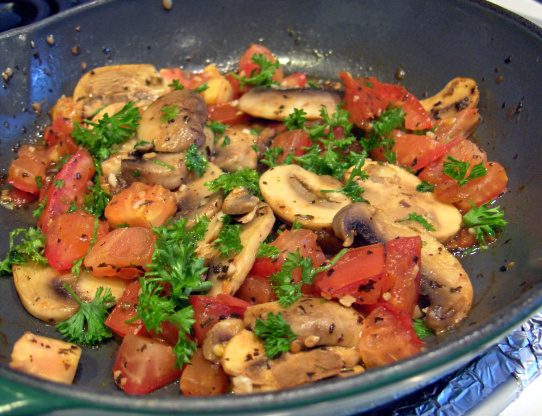 I knew I'd love this – just from a glance at the fabulous blend of herbs – and I was absolutely delighted with this recipe. I only made two small changes: I added slightly more garlic (I tend to always do that) and in step 4, as well as the specified amount of lemon juice, instead of water, I added some white wine. This was really tasty warm (I'd defy anyone to resist trying it the dish at this point) but even more delicious at room temperature. To me this looked more like a serving for 4, but it depends how many other dishes are to be served with it. I could also imagine 1 or 2 scoffing it down without any difficulty! Thanks so much for sharing. A five plus recipe! I'll be making this again.
Heat the oil on low in a frying pan, then gently fry the mushrooms for 2-3 minutes.
Do not overcook.
Sprinkle in garlic and basil, then toss the mixture for a minute or two so that mushrooms are well coated.
Add the tomato, lemon juice, water, salt, and pepper.
Stir together and cook until the tomato softens.
Remove from heat and let cool.
Garnish with chopped herbs.