Annacia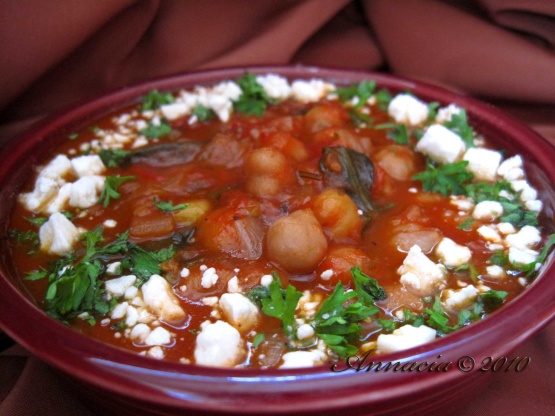 This delicious vegetarian stew can be served as a side dish, or over couscous as a main entree. This makes 4 main dish entrees, or 8 side dish servings.

This did double duty at my house. DH took his first before I added the spinach and we were both very happy. The simple ingredients produced a hearty and great tasting soup (for us). It's so easy and quick that it would be a wonder in the winter when you want something hot and satisfying that won't take all day. Thanks for posting this healthy and yummy recipe. I have posted pix of it with and without the spinach and parsley.
Saute onion in hot oil in a Dutch oven over medium heat for 6-8 minutes, or until tender. Add garlic and cook 1 minute more. Stir in tomatoes and next 8 ingredients. Bring to a boil; reduce heat to low and simmer, stirring occasionally, 15 minutes.
Stir in spinach and chopped parsley; cook 5 minutes. Top with crumbled feta cheese, if desired.