mimiyuyu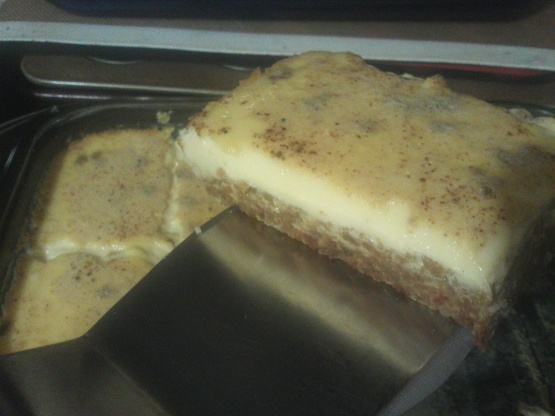 A New England favorite! Served in many restaurants from Maine to Massachusetts. Many of my friends here in Florida had never heard of grapenut pudding until I made it. I had to give them all the recipe.
I was so thrilled to make this for my Midwest and FLA friends. I had to use a 3 QT baking dish so I made 1 1/2 recipe. Used part sugar and part xylitol and 3 drops cinnamon essential oil with a dash of organic cinnamon powder... End result DIVINE!!! Served with fresh Plant City FL strawberries and whipped cream.. !!!! Ps. I am a N.E NATIVE gloating( shy fully ) with this recipe!! Thank You so much!!
Preheat oven to 350 degrees.
In a large bowl, pour scalded milk over the grape-nuts and let sit 5 minutes.
In a medium bowl, beat eggs, sugar, salt and vanilla. Add to the milk and grape-nuts, and stir a couple of times.
Pour into a greased 2-quart casserole dish. Sprinkle generously with ground nutmeg. Set the casserole dish in a larger pan and pour very hot water until halfway up the sides of the casserole dish. Bake for about 1 hour, or until a knife inserted 1 inch in the center comes out clean.
Serve warm or cold in individual dessert bowls with whipped cream.