Grape Nut Pudding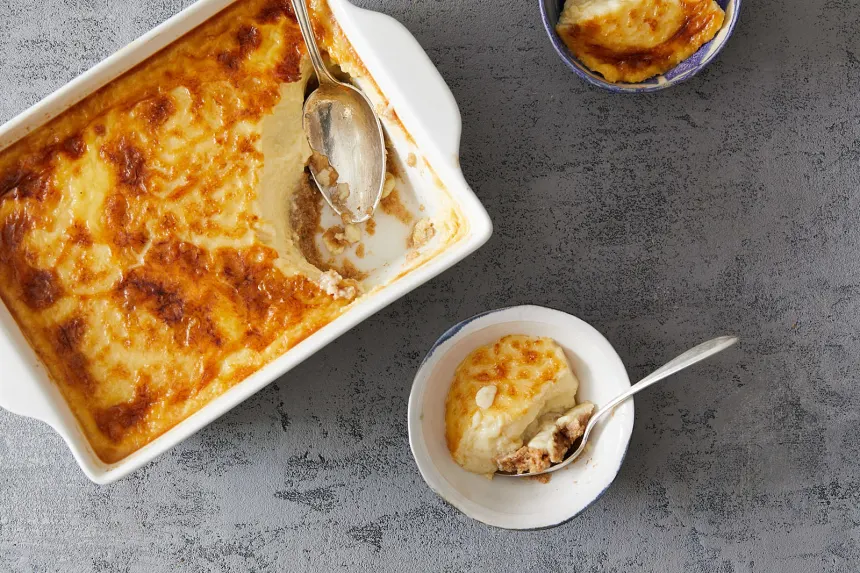 photo by eabeler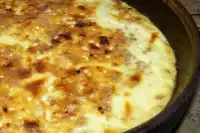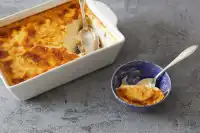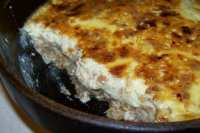 Ready In:

1hr 5mins

Ingredients:

6
directions
Butter a 1 1/2 quart casserole.
Soak Grape-nuts in hot water for a short while.
Put into the casserole.
Add the butter, milk, sugar, eggs, and vanilla; mix well.
Bake in a pan of water in a 350°F oven for 30-45 minutes, maybe more, depending on your oven.
Before taking out, check to see if it is firm in the middle.
Reviews
Delicious! I had this at a restaurant for the first time recently, and decided to try and make it myself. It actually took mine closer to an hour and a half to bake. I just kept checking it, and it was done eventually. I used a cup of heavy cream and three cups of skim milk (because that was what I had) and it tasted excellent. I brought it over to the neighbor's cook out and it was a hit. Thanks for the great recipe!

 

New England has some awesome simple desserts that have been around for years and that's because they are SO GOOD!!! This just happens to be one of those, and is an all time favorite of mine. When I go out to eat I always look to see if they have Grape Nut Pudding, Tapioca Pudding, Indian Pudding or Apple Crisp, because in my book there is nothing better than these 4 simple, but delicious, New England classics! I made this yesterday. It was kind of chilly here, at my sisters across from the water, in Maine. I doubled the recipe to make sure I had enough for everyone here, and when it was done, those that like it warm had theirs first, and then those of us that like it cold waited until it chilled. I served it with fresh whipped cream, and I was tickled pink to be eating it. Yummmm Y!!! Thank you so much for another great recipe Courtney! Linda

 

I made this with two cans of evaporated milk and one can of water. I added the sugar and vanilla and the grapenuts to the boiling water. Then, put the sauce pan with the grapenuts into the freezer. I emptied the two cans of evaporated milk into a blender. I then cracked 4 large eggs into the blender. I blended on low. I then put the grapenuts into my baking dish and mixed in the milk and egg. It came out very, very well. Baking with evaporated milk and adding water usually works out better than using fresh milk or cream.

 
Tweaks
Love Grapenut pudding...mostly because of the custard! And because of my grandfather. Anyway, I have soaked the grapenuts in 1 cup of the milk of the 4cups and heated the other 3cups...2cups of that is Half and half and 1 cup 1% milk! Yes ppl...Half and half...it adds richness and extra creaminess to the custard. I also add nutmeg or I have recently added saffron to the warmed milk/cream. It tastes wonderful! Try it! I baked my pudding in a pyrex 7×11 dish the first time. It took about 45 minutes to cook. This time I'm trying a pyrex 8×8, 2 qt, to see about the timing and how it comes out. I love this website though... I enjoy many of the recipes from here. Thanks so much!

 
RECIPE SUBMITTED BY
<p>John 3:3 <br />Psalm 91 <br /><br />We are born-again Christians and love the Lord Jesus Christ with all our being.? We attend a small Christian and Missionary Alliance church in our town.? <a href=http://www.cmalliance.org>http://www.cmalliance.org</a><br /><br />My family consists of my husband who was a microbiologist but is now retired, two children (daughter and son), four grandchildren, and soon to be two great grandchildren, a girl and a boy. I homeschooled my oldest granddaughter up to a senior in high school. She is now 29 years old. My oldest grandson, who is now 25; my youngest grandson, age 20; my youngest granddaughter is in seventh-grade. Our oldest granddaughter blessed us with our first great granddaughter and soon to be great grandson.? She is the cutest little one.? I love them all. <br /><br />Hosta is my favorite plant, the only plant I own. I now have 123 varieties and they all have names. I add to them each year. I love to do cross stitch, paint, scrapbook, and rubber stamping. <br /><br />I have a rare genetic lung disase called Alpha-1 Antitrypsin Deficiency (Type ZZ) that most people have not even heard about. Most doctors may have heard of it but don't know an awful lot about it and so many times it goes misdiagnosed. Feel free to z-mail me if you want to know more about it or go to the website?<a href=http://www.alphaone.org/>http://www.alphaone.org/</a></p>
View Full Profile