Um Safia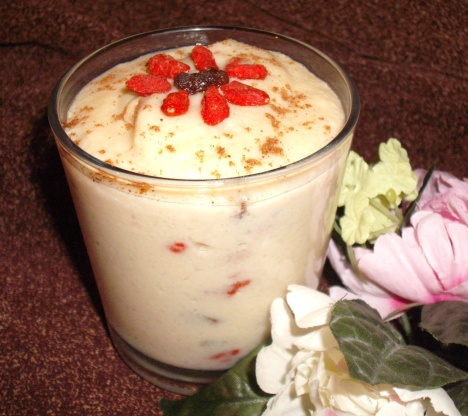 This is a super healthy version of rice pudding, which is easy to make & packed full of goodness. It comes from Nutrition Housecall. Time to make does not include chilling time. For a nice alternative use dried cranberries or blueberries.

Although the flavor was delicious, mine did not set up properly. More like tasty mud with puddles of water.

Great idea, though, and a perfect use for goji berries. I wish I had just followed a simple long grain white rice recipe instead and combined it with these flavors.
Using a large, heavy sauce pot bring water to a rolling boil. Add salt and rice. Cover, reduce heat, and cook rice until done, approximately 15 to 20 minutes. Stir in milk and sugar. Cover and cook over very low heat for approximately 1 hour. The mixture should look like thin oatmeal.
Whip eggs to a froth. Add vanilla and half of the cinnamon. Slowly add about 6 ounces of hot mixture to beaten egg mixture to temper the egg.
Blend until smooth with an immersion / stick blender or in the liquidizer. Now return to the pan & cook on a medium heat (not too high) until the mixture thickens, about 2 minutes.
Add goji berries and raisins. Mix until even. Remove from heat immediately. Portion into six heat resistant glass or ceramic dessert dishes / glasses. I like to make a flower design with the goji berries & raisins, both get lovely after a couple of hours. Chill in refrigerator at least two hours or overnight.
Serve garnished with fresh mint leaves and powdered cinnamon.