Ginger Glazed Strawberries (Herbs Optional)

Top pancakes, French toast, cheese cakes or ice cream whatever your heart desires. Enjot alone or you can top the strawberries with whipped cream and garnish with fresh herbs.
Directions
Mix cornstarch with a bit of water to make a slurry.
Place remaining ingredients into a pot over medium low heat stirring till sugar is dissolved.
Remove herbs and discard.
Add slurry and cook till thickened.
Enjoy on top of whatever pleases you!
Reviews
Most Helpful
Wow, these were delicious! I loved the ginger/cinnamon additions and I added some fresh rosemary herbs. Instead of 1/3 cup sugar I used 1/4 cup of a Splenda/sugar mix. I didn't have limoncello so I added an Ecuadorian liqueur that somebody gave me. I served them with a "French toast" sandwich. :)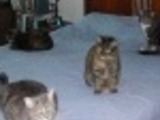 What a great strawberry sauce! Used the lavender and I loved the delicate floral note it gave this sauce. We enjoyed it plain tonight, like a pudding, with a dab of whipped cream.

WOW-----These were wonderful. I used Grand Marnier in place of the Limoncello--Dh is not a fan of lemon, and splenda---and even with my tinkering--these were wonderful berries! We ate them plain--not on anything, not with anything just these delightful berries, and what a wonderful treat! Thanks so much for posting this! Cannot wait for June and fresh local berries!