German Cream of Vegetable Soup
Charlotte J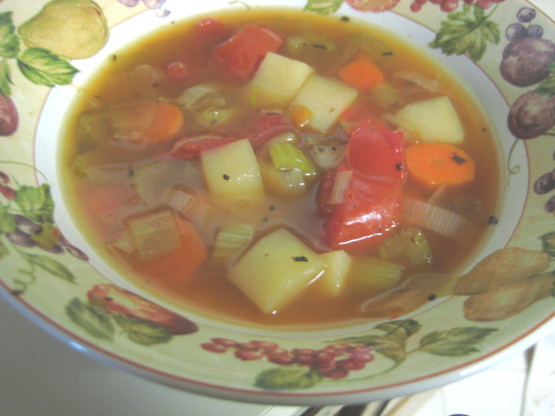 Hey, where's the cream? No, no cream here, only delicious healthy soup. This is a VERY healthy, low calorie soup. My family loves it. I serve it with thick slices of German bread.

I made the fully vegetarian version of this as I had a vegetarian friend at dinner. I followed the recipe very closely, though I did add a small amount of water before I blended the soup (using my stick blender). It cooked down quite a lot, and I didn't want it to be too thick. I did also take one other review's suggestion and add a little bit of grated cheese (romano). Prep time is very quick and the stick blender makes it easy to blend right in the pot, and everyone who had some enjoyed the soup.
Bring the stock to simmer. The taste of the soup will be different depending on which stock you use. You can also use 2 quarts water + boullions.
Clean and slice the leek, white/light green part only. Clean and chop the celery. Peel the carrots and potatoes and dice them. Put everything in the simmering stock. Add salt, marjoram, oregano and basil. Simmer for 1-1/2 hour.
Take out a big bowl to hold the soup while you use the blender to puree/liquify it.
VERY IMPORTANT! Only fill the blender container half full and make sure the steam can escape on top. I usually hold a paper towel over the top to prevent splatter. You can also let the soup cool a bit before you puree/liquify it.
Put the pureed/liquified soup back in the pot and reheat. Taste and add salt and pepper if needed. If you have fresh basil around, chop some and sprinkle over the soup.
Serve with delicious fresh bread.