Bergy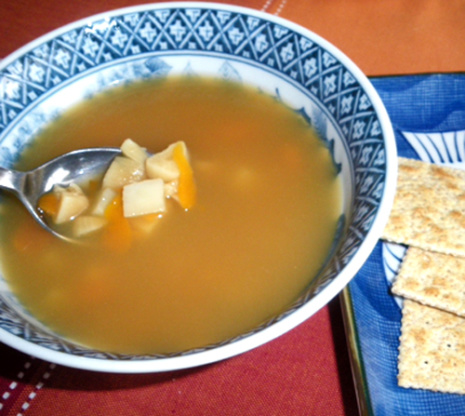 For all you garlic lovers...this soup's for you.

Really good! The pureed soup is satiny smooth and has a nice thick consistency and an appetizing light orange color. The flavor is very garlicky with a nice carrot undertone. It was very tasty as is so I did not need to add any salt at all, just a little pepper. I stirred in a pat of real butter at the end just to add some richness and it was a nice addition. I used a regular potato and didn't add any cream, it really didn't need it to be a warm filling healthy soup! It took 2 heads of garlic to make 1 cup of peeled garlic cloves, 3 medium carrots to make a cup of chopped carrots and 1 large potato to make 1 cup of chopped potato. My only other comment is about the serving size. The recipe says it make 4 servings - and that's true if you're talking about having a cup of soup, but, it only makes 2 soupbowl servings. Try this, my friends, you'll like it!
Place all the broth, vegetables and garlic in a medium pan.
Bring to a boil.
Cover and reduce heat to a low simmer, cooking for about 25 minutes.
Puree the soup in batches in a blender.
Return soup to pot to reheat on medium heat.
Season with salt and pepper.
Serve with a drizzle of cream on top if desired.