Garlic Parmesan Cream Sauce over Pasta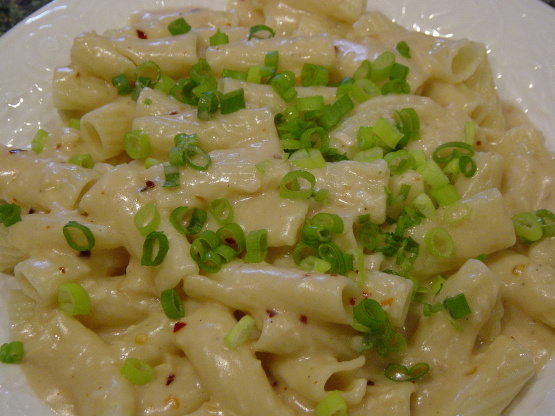 Garlic lovers-here you go! Love the combination of green onions with the garlic and parmesan.

I fixed this according to recipe. It was awesome and the flavors were perfect. The only thing I'd do differently would be to limit the Parmesan cheese to just a cup at most. I had a tough time estimating the thickness of the sauce and believe I over cooked it. Put over cheese tortellini and ground Italian sausage. Definitely going into my recipe file.
Directions
Cook pasta according to directions.
When pasta is half way done, start with cream sauce in separate pot.
Add butter, olive oil and garlic and saute on med-low heat until butter is melted, then add red pepper flakes and saute.
Mix in flour until combined.
Add milk and chicken broth, bring to a boil, lower heat and stir until thickened.
Add parmesan and stir until melted.
Serve over pasta, and top with green onions.
Option: Add cooked, diced chicken.