Parsley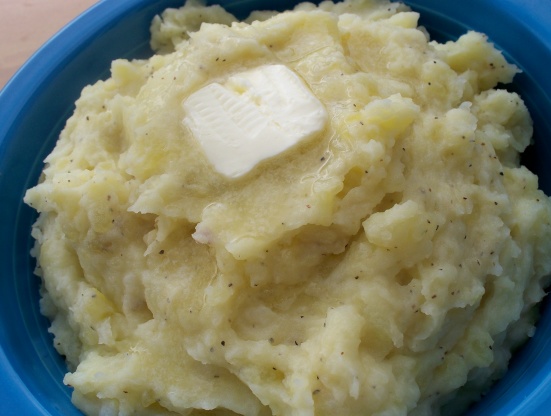 I was always wanting the Garlic mashed potatoes I ate in restaurants to have more garlic. My mom has always used evaporated milk and everyone really loves her mashed potatoes. I decided to use her technique and seriously increase the garlic content to come up with the flavor that I thought a Garlic Mashed Potato dish should have. Simmering the garlic with the potatoes smooths out the harsh garlic taste while perfuming the potatoes with an abundance of garlic. I also wanted the dish to be very easy to size upwards for company. You can do this very easily for every two additional potatoes you use. By the way... My husband told me I had errors in my recipe. To make it absolutely correct preface each of the steps with Make Husband...

Delicious! I have to admit that I was a little skeptical when I first read a whole head of garlic was called for in this recipe. Well - I thought it tasted amazing and I will be making my mashed potatoes this way from now on. (Note:You must have humongous potatoes where you live as I had to use quite a lot more potatoes than 2 to get roughly 2 pounds - I would recommend going by weight on this as "two large" where I am wouldn't have been anywhere near enough.) Thanks for an easy and delicious recipe!
Peel potatoes and cut into 1/2 inch thick slices.
Peel garlic into individual cloves.
Simmer potato slices and garlic cloves in a sauce pan with enough water to barely cover.
Once the potatoes are tender, drain the water from the pan, reserving 1/2 cup of water.
Mash the potatoes with the evaporated milk and butter.
Depending upon the size of the potatoes you may need more liquid.
You can use some of the reserved potato water, or more butter, or regular milk.
I usually use regular milk.
Season to taste with salt and butter.